​We are:

​Mystery
Humor
Short Stories
Comic Novels
Chicklit
Space Opera
​Sea Adventures
​(Sea adventures? Yes, sea adventures. Coming soon!)
---
---
COMING SOON!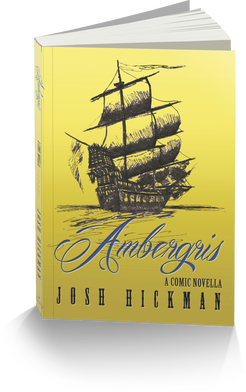 AMBERGRIS
A Comic Novella
by
Josh Hickman
​(illustrations by Josh Hickman)
Cursed in-utero with a lifelong phobia of water when his beloved, neurotic mother Prunea was traumatized by an attack from a rutting manatee, youngish fop Lucius Creedmore escapes his abusive father Squinto and sets off on his own personal search for adventure, fortune, and courage in 1800 New Orleans. Shanghaied aboard the notoriously unlucky
Medusa's Piles
, which is secretly in search of the legendary, treasured substance
ambergris
, Lucius is somewhat befriended by old salts big Brisbane Glottis and superstitious Paraquat Hornbucket who protect him from the dangers of the sea as well as ill-tempered Captain "Mauve Bart" Mingeworthy. Plagued by bad luck and fighting his fear of water, Lucius endures the taunts of his fellow sailors, sea monsters, a "ghost ship," the sinking of the
Medusa's Piles
, Shrimpfest '00, and constant danger in Sodom-By-The-Sea off the Barbary Coast. He struggles to protect his dwindling, accursed lump of prized ambergris from nefarious thieves and evil perfume barons, finding (something like) love in accused-witch Impetigo along the way.
Hilariously told and imaginatively rendered, with nods to
The Old Man and The Sea
,
The Pearl
, and
Captains Courageous
, Hickman turns the usual seafaring treasure hunt and belated coming-of-age story into an absurd and surreal satire which pitches man vs. nature (and everything else), and humorously stresses the eternal warning:
Be careful what you wish for
.
---
---
OUR BOOKS:
​

---

THROUGH TICK & TINN:
​The True Story of the Greatest Unknown Comedy Team Ever Knownby Josh Hickman

​​Say "Martin & Lewis." They'll say, "A phenomenon!" Say "Rowan & Martin." They'll say, "

Laugh-In!

" Say "Tick & Tinn." They'll say, "You mean the tailors?" Finally, Josh Hickman bravely attempts to right a tragic comedic travesty which has persisted in the annals of entertainment for decades longer than it should have. Unmercifully digging through personal interviews, yellowed press clippings, grainy videotapes, scratchy kinescopes, scratchier comedy albums, and reams of questionable anecdotes, Mr. Hickman has managed to do the unthinkable—to piece together the most coherent portrait possible of the life of one of the last great comedy teams of the era.

Through rifts, marriages, divorces, and an infamous accusation of joke-theft, Jerry Tick and Larry Tinn persevered undaunted, spreading laughter through memorable challenges such as "The Pope Lick Monster" controversy, Jerry's comedy cult involvement, and facing on live television Hobarth Getz, "The Man Who Couldn't Laugh."

​DETAILS:
​Publication Date: Dec 19, 2017
​Hard Cover ISBN: 9781939197375 | $24.95
Paperback ISBN: 9781939197368 | $14.95
​eBook ISBN: 9781939197382 | $4.99
---
​

---

MURDER ON MOON TREK 1: A Sylvia Stryker Outer Space Mystery
​

by

Diane Vallere

​

When space academy dropout Sylvia Stryker hacks her way into the position of Uniform Inventory Manager aboard Moon Unit 5, she jumps at the chance to leave her small planet behind. But when the ship's second navigation officer is found dead in the uniform closet shortly after departing the space station, Sylvia's problems become bigger than falsified test results. And when her supervisor places her on probation for her own uniform infraction, she's at risk of being dropped off at the nearest substation. Juggling red shirts, white lies, and an army of little green men, Sylvia has to expose a killer before Moon Unit 5 becomes space dust.​

DETAILS:
Publication Date: Dec 17, 2017
​Paperback ISBN: 9781939197405 | $12
​eBook ISBN: 9781939197399 | $2.99
---
THE SAMANTHA KIDD MYSTERY SERIES : Solving Crime Through Style & Error
---
Designer Dirty Laundry | Samantha Kidd Mystery #1


Samantha Kidd, ex-buyer turned Trend Specialist, designed her future with couture precision, but finding the Fashion Director's corpse on Day One leaves her hanging by a thread. When the killer fabricates evidence that puts the cops on her hemline, her new life begins to unravel. She trades high fashion for dirty laundry and reveals a cast of designers out for blood. Now this flatfoot in heels must keep pace with a diabolical designer before she gets marked down for murder.

Named a top Indie book for July 2012 by Kirkus ReviewsIncluded in LA Magazine's June Reading List
---
Buyer, Beware | Samantha Kidd Mystery #2


Out-of-work fashion expert Samantha Kidd is strapped. But when the buyer of handbags for a hot new retailer turns up dead and Samantha is recruited for the job, the opportunity comes with a caveat: she's expected to find some answers. The police name a suspect but the label doesn't fit. Samantha turns to a sexy stranger for help, but as the walls close around her like a snug satin lining, she must get a handle on the suspects, or risk being caught in the killer's clutches.
---
THE BRIM REAPER | Samantha Kidd Mystery #3


​When an over-the-top collection of vintage Hollywood costumes comes to Samantha Kidd's hometown, it brings a hat box full of hype. Close friend Eddie is in charge of the exhibit but when hype turns to homicide, he turns to Samantha for help. Brimming with good intentions, she loops in the cops, but after one too many cloche calls, she's soon in over her head.

If she can tear the lid off the investigation, it might mean a feather in her fedora. And if she can't? She might get capped.
---
Some Like It Haute | Samantha Kidd Mystery #4

Fashion expert Samantha Kidd is in the hot seat. After agreeing to help her ex-boyfriend's former girlfriend with a runway show, she's attacked in the parking lot outside, landing in the hospital. And when a garment goes up in flames on the catwalk the day after the attack, the situation turns explosive. She recruits a smokin' hot photographer to turn up the heat on the investigation, but even the third degree won't expose an angry arsonist. With a crash course in sizzle, Samantha's curiosity leads her into another inferno, and this time she either faces the fire or gets burned.
---
Grand Theft Retro | Samantha Kidd Mystery #5

When Samantha Kidd's job at Retrofit Magazine leads her into the archives of seventies style, she's prepared to report on patchwork velvet and platform shoes, but she never expected to uncover the theft of a major collection of samples from runway shows that took place before disco died. And when the guilty party threatens Samantha's family and friends, her priority shift into protection mode. The investigation heats up faster than fondue over sterno, and all too soon Samantha learns that while beat goes on, there's no guarantee that she'll go on with it.


---
Pearls Gone Wild | Samantha Kidd Mystery #6

Amateur sleuth Samantha Kidd's life is finally on track. It's her normally cultured friend Cat whose life has lost its luster: eight months pregnant and abandoned by her husband the week before Christmas. She ropes Samantha into helping at her boutique, but a string of jewelry thefts threatens her business. And when Cat's husband is found strangled with pearls inside the shop, the last thing she's concerned with is profit. Samantha tries to get a bead on the killer, but when the suspects all clam up, she's left tangled in knots. Add in an unexpected proposal, a flirtatious friend, and a brand new detective, and this is bound to be Samantha's wildest adventure yet.
---
Cement Stilettos | Samantha Kidd Mystery #7

When newly engaged amateur sleuth Samantha Kidd discovers the body of a mafia princess dead in fiancé and shoe designer Nick Taylor's showroom, her questions are so numerous she'd need a bookie to keep track. The victim's ties to local organized crime are unexpected. Nick's apparent vow of silence makes Samantha question the vows in their future, and despite past promises, all bets are off. Wise guys and leopard ladies keep her busier than a consigliere during tax season, and if she can't keep her head above water, she'll end up sleeping with the fishes.
---